minitec 2,4,6,8 Station Dual Program Controller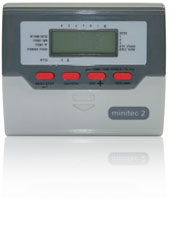 2,4,6,8 station controller.
Two independent programs.
Water budgeting from 10-200%.
Will display active stations in each program.
Master valve/Pump start.
Manual operation per station or Semi-Auto for each program.
Start time stacking allows controller to activate all start times even if they overlap each other.
Rain - off position will stop all irrigation without affecting the program.
Program Erase Code.
Display Time & Day, operating station, power failure and OFF.
Watering time - 1 min. to 9 hrs & 59 min. in 1 min. increments.
Start Time - 3 starts per day per program.
Days schedule - 7 days "select -A-day" or "Skip days" interval from 1-14 days.
Controller electronics is powered by 2 x 1.5 volt AA Alkaline battery.
The valves are powered by 24 volt AC power pack.
Simple "NEXT STEP" programming guides you through all program parameters.