itec DC 4,6,8 Station Multi Program Controller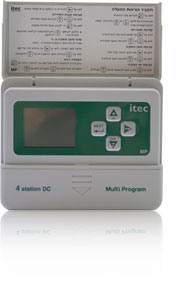 4,6,8 station controller.
Individual station programming.
Water budgeting from 10-200%.
Manual operation per station or semi-auto of all all programmed stations in seq position.
"Copy" feature allow quick copy of data from previousstation. Only in first programming.
Queue function - if more then two stations have been programmed to start at the same time.
Watering time - 1 min. to 9 hrs & 59 min.in 1 min. increments.
Start Time - 3 starts per day per station.
Days schedule - 7 days "select -A-day" or "Skip days" interval from 1-30 days.
Master valve/Pump start.
On/Off Rain Switch.
Program Erase - total reset.
9 volt, Alkaline battery to run the controller program and opperates all 9VDC valves.
Battery compartment, located on the right side of the controller, inside a sliding drawer, with "push to lock" and "push to unlock" mechanism.
Rain sensor connection.
Indooor and outdoor units.